Gerne machen wir auf den 2. DARIAH Annual Open Access Book Bursary von DARIAH-EU aufmerksam, der die Publikation von OA-Monographien im Feld der Humanities unterstützt. Für alle Informationen zum Bewerbungsverfahren bitte hier entlang.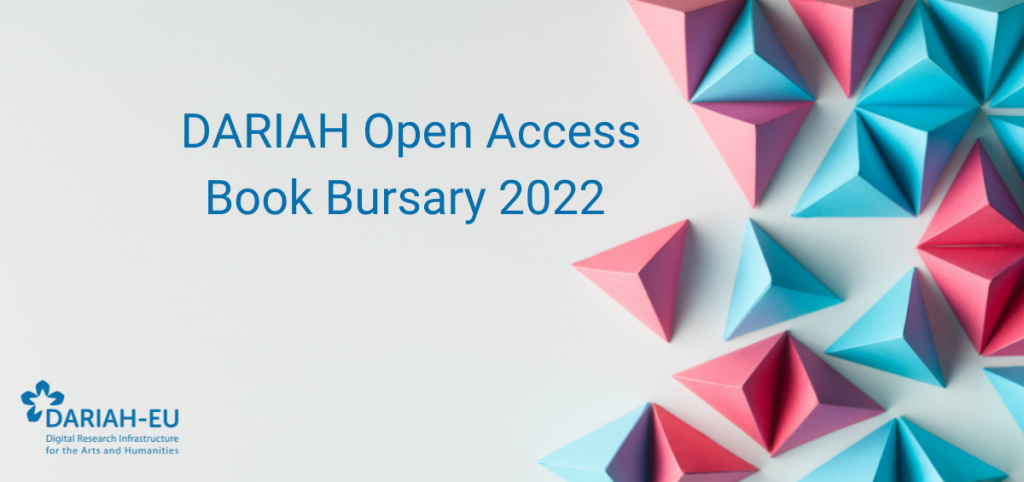 We are pleased to announce the second round of the DARIAH annual book bursary for the Open Access publication of early career researchers' first monographs in Digital Humanities. The bursary aims to serve as a modest but immediate contribution to ease the current anomalies in Open Access publication funds that are usually not inclusive of first monographs and support those who are less privileged in this respect but could possibly achieve the biggest change in academic culture and beyond.
By doing so, DARIAH-EU aims to further strengthen its long-standing commitment to paving paths towards open research culture as it specifically pertains to arts and humanities disciplines and to enabling early career researchers, who are usually less privileged in institutional Open Access grants, to openly disseminate their first monographs in book series that are topically most relevant for their field of interest. 
In terms of publishing venues, the bursary aims to support community-driven, fair players and therefore publication in a DOAB certified, fair Open Access publication venue with transparent pricing and in alignment with the SPARC Good Practice Principles with Scholarly Communication Services is set as an absolute eligibility criterion.
You can find important deadlines and eligibility criteria below. 
You can learn more about the bursary here and the winner of the first round here.